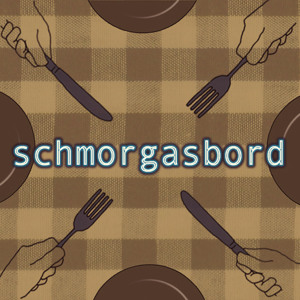 I've been meaning to do a write up about this label for a minute now. Very few labels excite me as much as

Schmorgasbord

does, with each release sounding fresh and different. Coming from Bristol and pushing a sound that lies somewhere in the fuzzy nether-regions of where 4/4 and broken beat meet. Each release sees "two distinctly different artists (from different rhythmic disciplines) being hand-picked by the label to fuse their sounds and see what the resulting music is", with the first release seeing

Appleblim

and

October

amalgamating their musical backgrounds to create a duo of killer collaborations. The record opens with the dancefloor bomb, NY FIZZZZZ which is a tip of the cap to New York house circa the early 90s, combining some really tuff jacking drums, swelling pads, airy chords and a punchy bassline. Fountains of Paradise on the flip, heads out into space, taking the form of a blissed out half steppa with a growling bassline, some dubby percussion and some heavy 80s synth work.
NY FIZZZZZ - Appleblim & October
More Recently, Schmorgasbord have returned with a 4 track release from Infrasonics main-man
Spatial

and German house/techno freak

S-Max

. The EP is made up of two original tracks from both of the respective producers who then flip and remix the others work. S-Max kicks things off with Ms. Rosen Dub a nicely swung techno joint with plenty of eerie atmospherics. Spatial lightens the mood and strengthens the track with some massive kicks in his version. Over on the other side Spatial brings his original, Corti to the fore. Corti is a 2-stepish track bristling with energy and drums, which never stops changing and pushing forward. S-max tidies up with his version restraining the percussive elements while keeping the broken template (almost moving into hardcore territory) and letting the synths and bassline shine through a little more.
Both releases are available in digital and vinyl formats (
here
), although a bit of searching maybe required if you want the first release on vinyl as it's all sold out on boomkat. Keep an eye out for the third release coming soon.